industrial Single Shaft Plastic Shredder
Brand :STPLAS
Product origin :China
Delivery time :60 days
Supply capacity :10 sets per month
Features:
1. Hydraulic pusher, independent power system, Strong structure, running stable, easy feed, large capacity.
2. The main screw of shredder and crusher one unit use gearbox drive, so running stable ,low noise and large torque.
3. PLC control system, it can auto Positive reversal, stop, achieve the equipment running automatic, make the machine running more safety and stable.
4. Material of Blade, according different material ,we will design for the different blade.
5. For the pipe shredder, it is hard to fixed, so we design a fixed feeder special for plastic pipes feed.
Industrial Single Shaft Plastic Shredder
The shredding and crushing machine adopts European advanced technology and is mainly used in various thick-wall waste materials in the plastics industry. It is used for shredding and recycling of scrap materials. It is used for special thickness, toughness, and large-scale materials (large-sized head material, nozzle material, gate material, Large-scale plastic pipe fittings, large-diameter thick-walled PE pipe, PE head material, plastic packaging barrels, large bales of packaging plastic film, large bundles of packaged tons of bags woven bags, roll film, paper, fiber, plastic box baskets, plastic trash cans , TV shells, computer shells, printer shells, forklift pallets, plastic pallets, plastic turnover boxes, etc.) can effectively shred broken smash, and suitable for plastic, rubber, wood materials broken crushing recovery.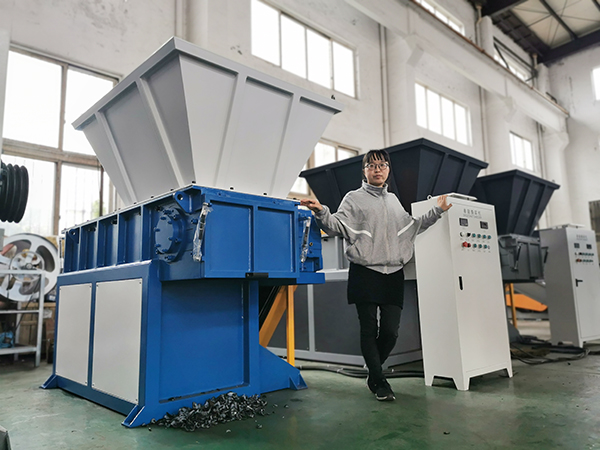 Advantage:
1. Shredding and crushing machine hydraulic push material, independent power system, solid structure, stable operation, can be shredded on large bales of large and large plastic bags, convenient feeding, large quantity;
2. The main shaft is driven by the gear reducer, running smoothly, with low noise and large torque;
3. Shredding crusher machine PLC program control system, can be automatically reversed, shut down, to achieve automatic operation of the equipment, so that the operation of the machine is more safe and reliable;
4. The material of the knife: Cr12MoV (Japanese brand SKD-11, US brand D2); the movable knife adopts the "V" shape or "oblique-one" character installation method, which makes the rotary knife cut material evenly throughout the work and reduce energy consumption. , reduce noise, each moving knife has 4 cutting edges, can continue to rotate after wear 90 degrees; each set has 2 cutting edges, after wear can be rotated 180 degrees to continue to use; the blade on the rotor can be removed, Easy to clean, maintain and maintain.
5. Shredding crushing machine For the pipe shredding, it is difficult to fix the characteristics of special fixed pipe shredder to move the fixed bucket, used to catch the pipe, this can improve the pipe shredding efficiency and yield.

Main Shaft of single shaft shredder: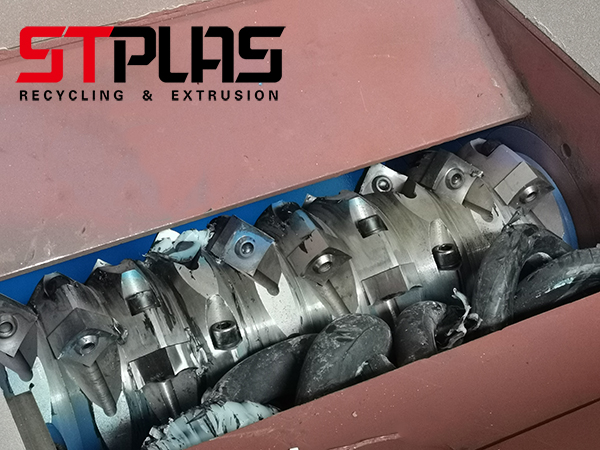 Shredder ST1-600 Technical Parameter:
| | |
| --- | --- |
| Model | 600 |
| Power of main motor | 18.5KW |
| Hydraulic power | 1.5KW |
| Number of rotor blade | 26pcs |
| Number of fixed Blade | 1pc |
| Rotation diameter | 280mm |
| Shaft rotating speed | 80r/min |
| Sieves Mesh diameter | 40mm |
| Oilcylinder distance | 500mm |
| Capacity | 400-500kg/h |
| Overall dimension | 2000*1400*1980mm |
| Feeding size | 845*610mm |
Plastic scrap flakes:


We also can do double shaft shredder, plastic crushers, PP PE crushing,washing drying line and PET bottle scrap washing drying line etc. Warmly welcome to have inquiry.
Get the latest price? We'll respond as soon as possible(within 12 hours)