Hot washing PET Bottle Crushing Washing Recycling Line
Brand :STPLAS
Product origin :China
Delivery time :60 days
Supply capacity :10 sets per month
Advantages of PET bottle scrap recycling plant:
-Final PET flakes have good quality. After processing, final products humidity below 1%, impurities below 100ppm, PVC label content is less than 100ppm. The whole line capacity between 500kg/h-5000kg/hour
-World famous brand components are applied on the production line- e.g. SKF bearing, Siemens contactor, Omron temperature, Siemens PLC controller and etc.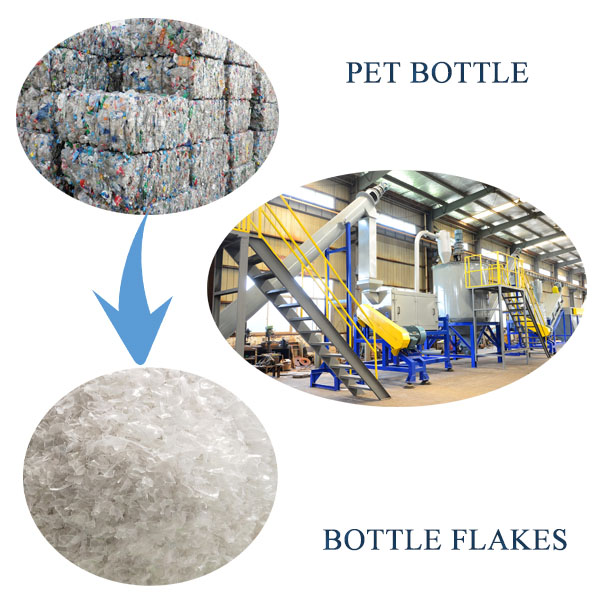 Main Technical Data:
| | | | | |
| --- | --- | --- | --- | --- |
| Model | STPET-1000 | STPET-2000 | STPET-3000 | STPET-5000 |
| Capacity (kg/h) | 1000 | 2000 | 3000 | 5000 |
| Water consumption (m3/h) | 3--5 | 6--8 | 10--12 | 12--15 |
| Power Consumption (kw) | 210--260 | 400-460 | 600-670 | 920-1200 |
| Labor required (person) | 4-5 | 5--6 | 6-8 | 6-8 |
| Factory Area required (m2) | 85*5*5 | 110*6*6 | 135*6*6 | 150*8*7 |
PET bottle scrap recycling plant main include:
Belt conveyor, debaler, label remover, screw loader, crusher, friction washer, floating washer, hot washer, dewatering machine, label separator machine, storage hopper, electric cabinet etc.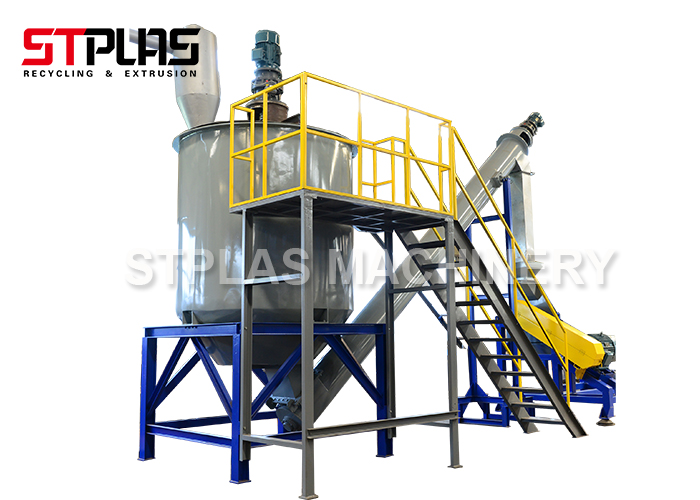 Steam hot washing machine advantage:
The hot washing machine will use heat, chemical and mechanical power. The friction between the bottle flakes and the shearing force of the vortex flow of the medicine are used to make the impurities separate from the surface of the bottle flakes and are removed by centrifugal dehydration. The dropped syrup can be reused immediately after simple filtration, which greatly saves the cost of medicament use.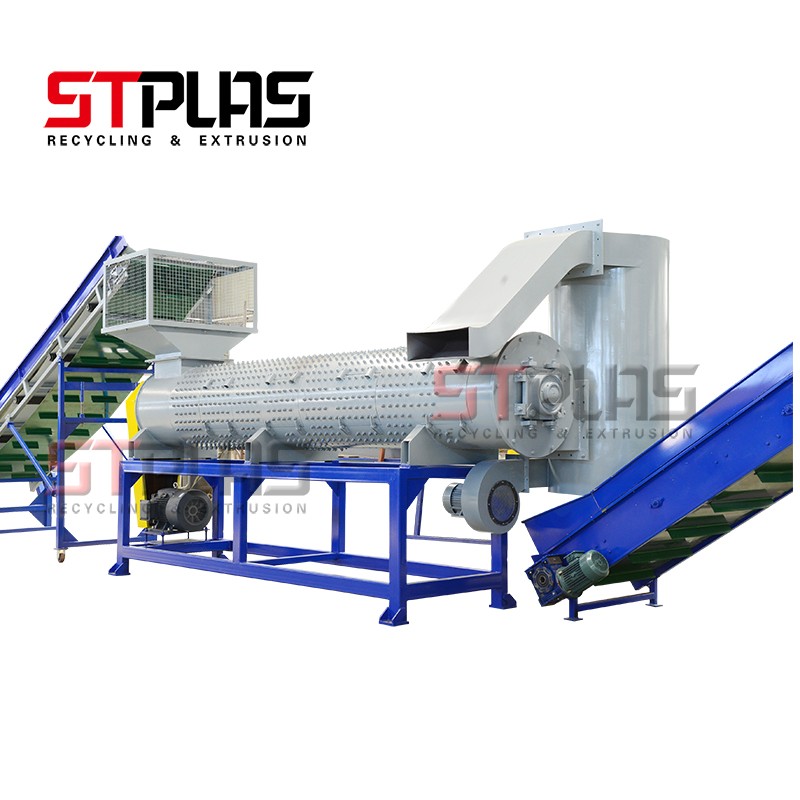 Label Removing machine advantage:
The de-labeling machine will rub each bottle in turn at high speed to destroy the label on the bottle body and separate the label from the bottle body.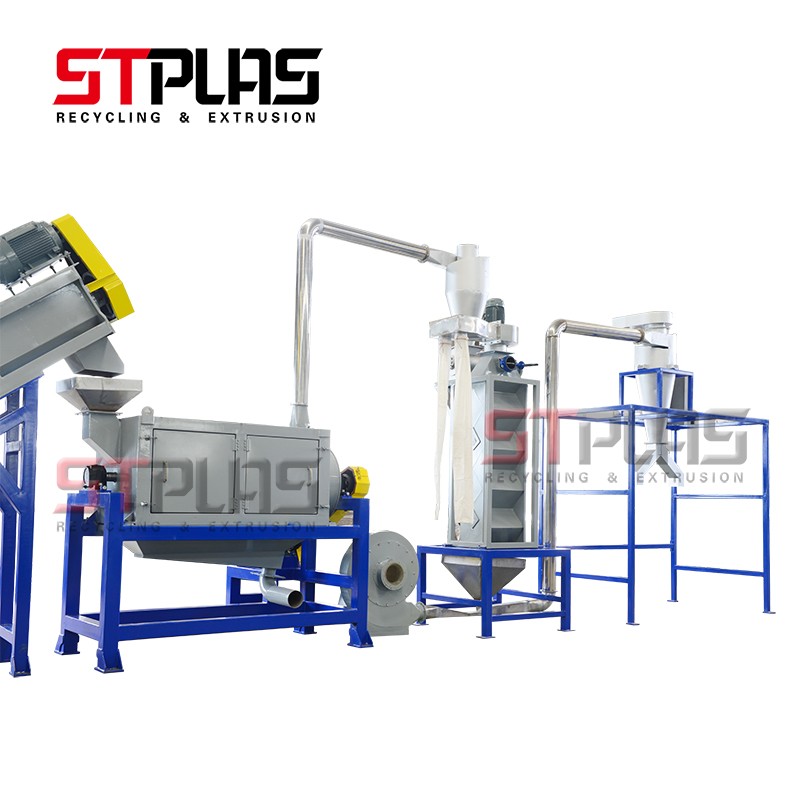 Dehydration equipment advantage:
After the dehydration equipment, the moisture content of the bottle flakes before packaging can reach 1.5%-2%, and the label suction machine removes the film and light substances in the bottle flakes to achieve the best quality of the finished product. (If it is required to control the moisture within 1%, a drying system is required).
Final Products: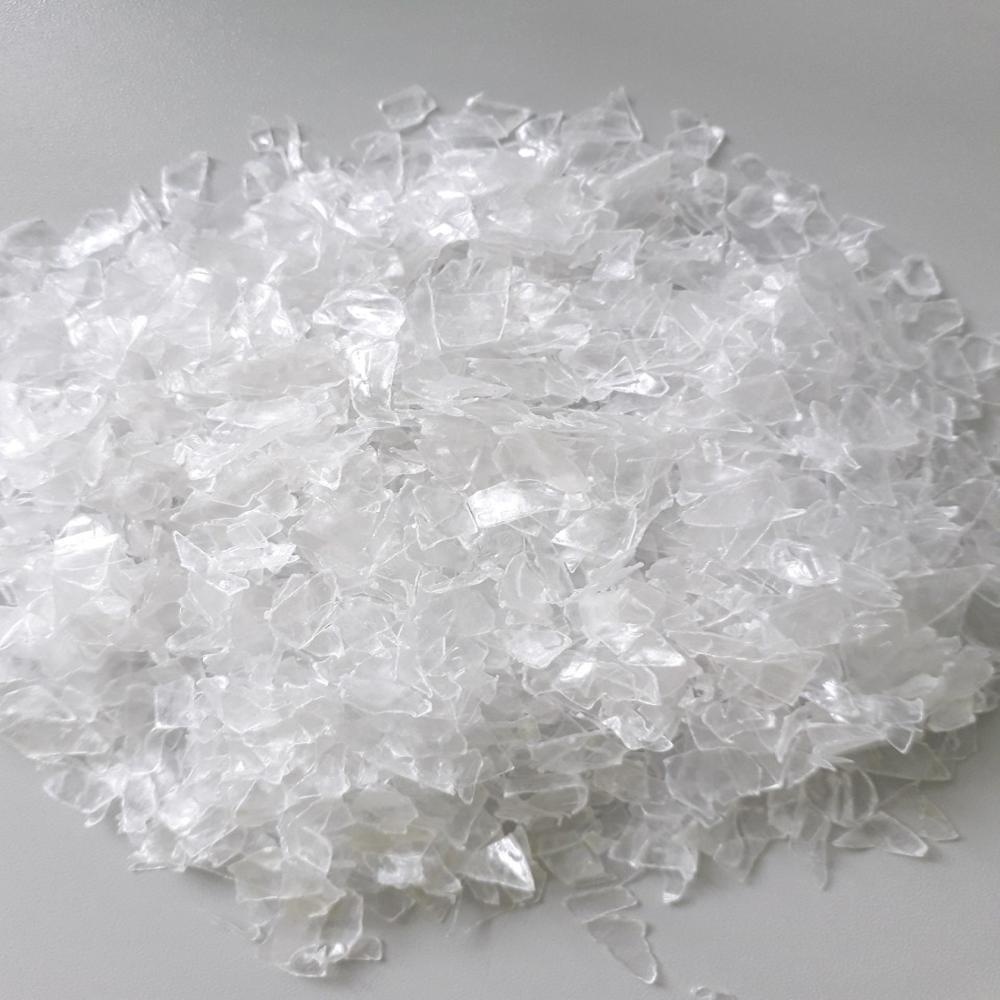 Moisture: max 1%
Bulk density: 0.3G/CM3
Particle size: 14-18mm according your requirement.
Metal content: max.20ppm
Floatable contamination: less than 200ppm
Total impurity: 320ppm
Different degree level flakes have different final flakes data.
Packing and shipping of PET bottle scrap washing line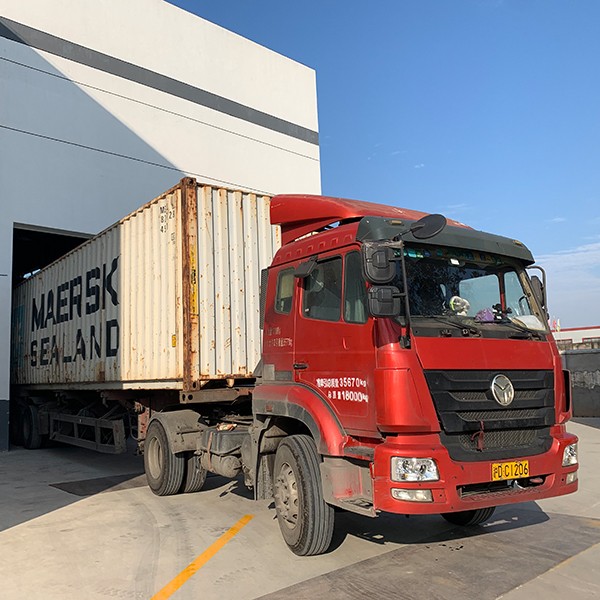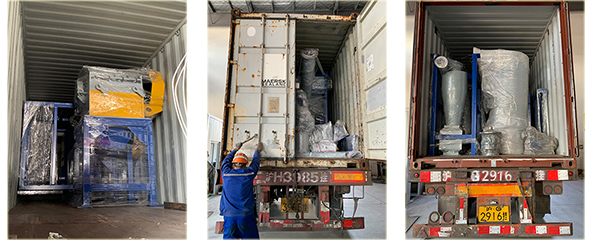 1. The loose cargo the machine will be packed by wooden box.
2. The full container loading the machine will be packed by film scraping suit for shipping.
3. Faster machine delivery and installation: Stplas produces on an average of 10 sets of plastic machines per month and can deliver the machine faster than most manufacturers.
4.The regular delivery time of an Stplas washing machines is 60 working days.
Our service:
STPLAS MACHINERY is a creative company, focusing on the technology of plastics recycling and plastic extrusion system. we have our own R & D team , We will provide the highest quality product "QUALITY IS OUR CULTURE." STPLAS will design as your local factory requirement, each line is special.
BEFORE -SALE
a. Introduce products and applications detain
b. Recommend suitable solution
c. Provide with reference information
d. Offer lab for test
DURING MANUFACTURING:

a. Provide with layout and engineering conditions
b. Inform the project processing status
c. Offer other documents
AFTER-SALE

a. Provide with installation,commissioning and training
b. Register and record customer information
c. Offer spare parts
d. Provide with necessary technical support for new application
Get the latest price? We'll respond as soon as possible(within 12 hours)