New Automatic PP PE film shredding washing drying line
Brand :STPLAS MACHINERY
Product origin :ZHANGJIAGANG, JIANGSU, CHINA
Delivery time :50 days
Supply capacity :20 lines per year
film shredders adopt double film shafts design that rotate a medium speed, low noise and high efficient without pusher. Adopt SIENMENS LOGO microcomputer control system with function of start, stop, automatic reverse sensors to protect the machine against over loading and jamming. It is especially suitable for recycling the medium hardness and soft material, for example film, woven bag, jumbo bag, paper and etc. For different material, it could use different shaft.
New Automatic PP PE film shredding washing drying line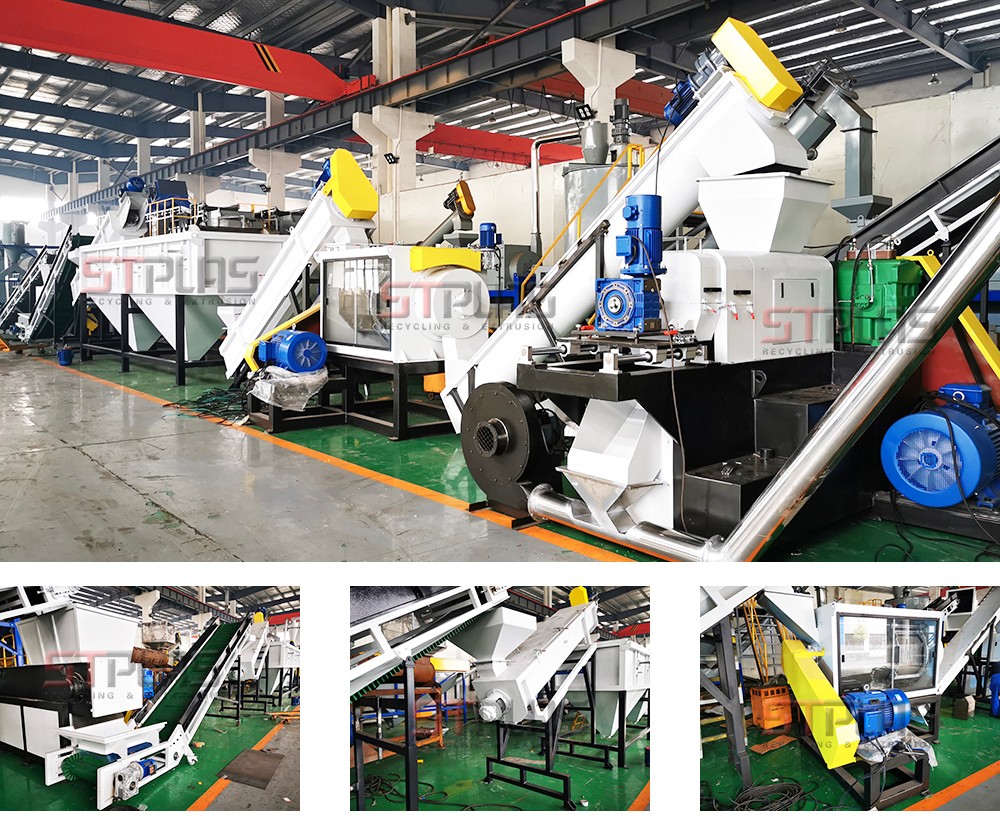 The complete PP PE shredding washing line include below items:
1. Belt Conveyor
Send the film and bags to the wet crusher machine
2. Single/double shaft shredder
Cuts the films and bags into small pieces size
3. Friction washer
Separate the bags and films scraps to friction washer
4. Floating washer
The floating washing tank wash the film and bags
5. Screw feeeder
Send the films and bags to the dewatering machine
6. Dewatering machine
Dry the film and bags
7. Film squeezing granulator
make the film/bag scrap to granules.
8. Silo for packing
Storage
More details:
Waste PE shredding washing line:

Raw material & formulation

Post-consumer bottles

Capacity range

300kg/hour

500kg/hour

1000kg/hour

1500kg/hour

Description of final product

Moisture: below 5%

Particle size: 4-6mm

Impurities: 100 ppm

PVC label content: 100 ppm

Production standard

CE, ISO9001
Film squeezing cutter unit: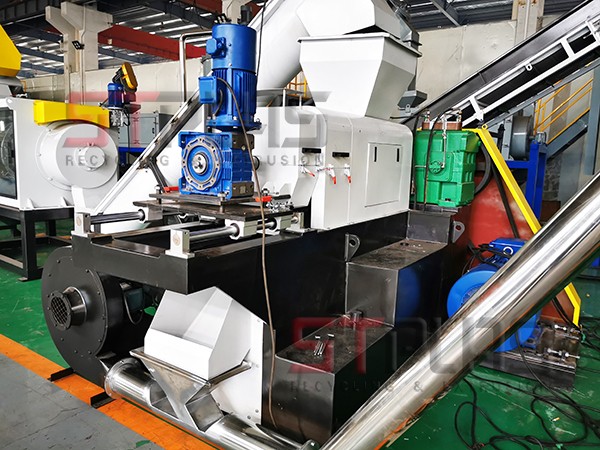 Due to many customer told the final film Water content can not go to extruder directly , for this problem ,we research and designed film squeezing cutter one unit.

If you do the final products for yourself , after film squeezing machine can meet it ,the pellets can go to injection machine or other extruder to make your products. But if you want to sell good sale-pellets, you should buy pelletizing machine to make pellets.
Get the latest price? We'll respond as soon as possible(within 12 hours)