>
>
>
Plastic film pelletizing machine Waste film recycling and pelletizing production line
Plastic film pelletizing machine Waste film recycling and pelletizing production line
1. Material type: printed PP film, PE film, LDPE film, HDPE film, LLDPE film, BOPP film, waste agricultural film, packaging bags, fragments, rigid sheets, etc.
2. CE certificate (COMMUNATE EUROPEIA)
3. Low power consumption
4. The output is more stable
5. Lubrication and full ball
6. Two specially designed materials: film (soft) sheet (hard).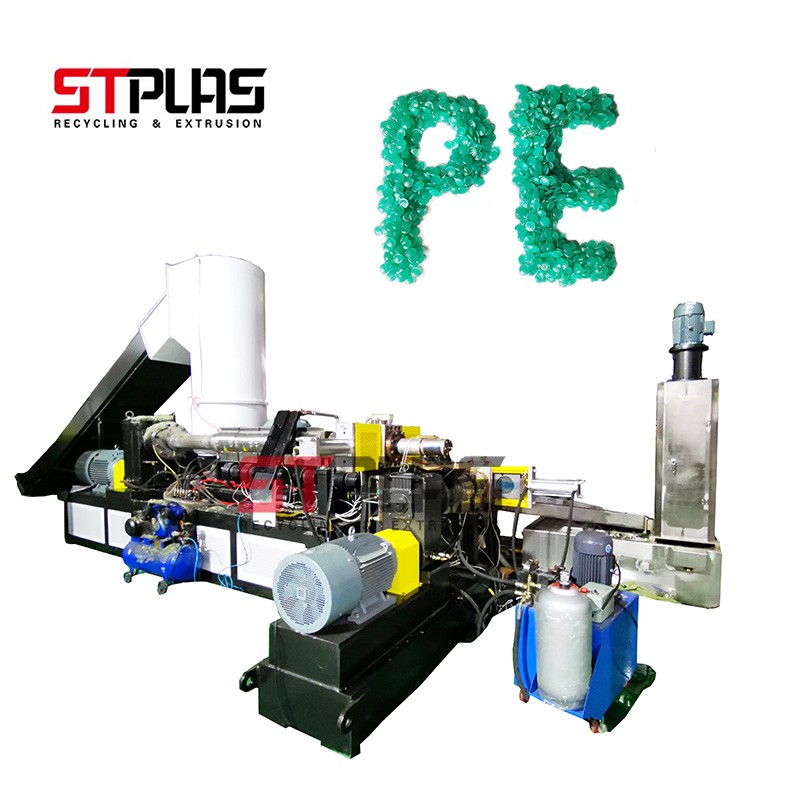 Features of Plastic film pelletizing machine:
1. High efficiency
Compared with the primary design, the output of SUZHOU STPLAS second generation membrane granulator has increased by 20%.
2. Low power consumption
The power consumption is reduced by 15% compared with the preliminary design.
3. Fully automatic
Only 2 people are required.
4. Barrel
Safer operation, keep your workers away from danger
Work program

Conveyor belt → metal detector → compaction → first stage extruder → first hydraulic screen changer → second stage extruder → second hydraulic screen changer → die head → pelletizing system → dehydration equipment → air conveying → material warehouse
Features:
Three-in-one machine (crushing, extruding, granulating), with high efficiency and high output, suitable for PP, HDPE, LDPE, LLDPE, ABS, PET, PA, EPE, EPS, XPS, etc. This unit is a fully automatic granulator , That is, from feeding, crushing, conveying, and pelletizing at one time, the extruder can choose vent or no vent according to the characteristics of the material, and the pelletizing method (stretch pelletizing, water ring grinding surface hot cutting, air cooling Hot cutting of grinding surface and underwater pelletizing) can be configured according to user needs, single-plate double-station screen changing device, no downtime, large filtering area.
Advantages:
One-stop process of crushing, conveying and granulating, assembly line configuration, saving labor and improving efficiency, equipment configuration is excellent, complete functions, various comprehensive indicators and performance are very good, and the degree of automation is high, suitable for professional users with certain strength and scale Optional. The equipment has good adaptability. Almost all kinds of conventional plastic granulation can be adapted. The energy consumption ratio of the equipment, the quality of the output product and the comprehensive competitive advantage are obvious. There is no common failure or bad phenomenon of ordinary granulator.
Disadvantages:
There are many supporting automation equipment, which is more suitable for specific users. Ordinary users need to simplify the configuration, and the equipment investment budget should be relatively high.
Get the latest price? We'll respond as soon as possible(within 12 hours)